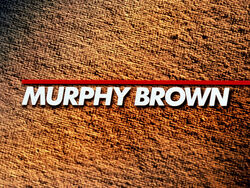 This is the complete episode list of all eleventh seasons of Murphy Brown the return of the series.
Season 1
Edit
Season 2
Edit
Season 3
Edit
Season 4
Edit
Season 5
Edit
Life After Birth
Black, White & Brown
I Never Sang for My Husband
Night of Living News
A Year to Remember
Midnight Plane to Paris
Me Thinks My Parents Doth Protest Too Much
Winners Take All
Tilll Death or Next Thursday Do We Part
I'm Dreaming of a Brown Christmas
Games Mother Play
The Bristish Invasion
Back to the Ball
The Intern
Trickster, We Hardly Knew Ye
The World According to Avery
Bump in the Night
To Market, to Market
Two For the Road
Murphy and the Amazing Leaping Man
The Egg & I
Ship of Phil's
One
Season 6
Edit
The More Things Change
Angst For the Memories
Black and White and Read All Over
Political Correctness
The Young & the Rest of Us
Ticket or Writhe
I Don't Know You From Madam
All the Life That's Fit to Print
Bah Humboldt
Reaper Masses
It's Not Easy Being Brown
To Have and Not Have
Sox and the Single Girl
A Piece of the Auction
The Thrill of the Hunt
The Deal of the Art
The Anchorman
Fjord Eyes Only
Crime Story
The Fifth Anchor
Anything But Cured
The Tip of the Silverberg
It's Just Like Riding a Bike
My Movie with Louis
The More Things Stay the Same
Season 7
Edit
Brown vs. the Board of Education
Where Have You Gone, Joe DiMaggio?
Loose Affiliations
Be Careful What You Wish For
Burger, She Wrote
Humboldt IV: Judgment Day
Frank Cuts Loose
Reporters Make Strange Bedfellows
Prelude to a Kiss
Bye Bye Bernecky
The Secret Life of Jim Dial
Brown in Toyland
The Best and Not-So-Brightest
Rumble in the Alley
Requiem for a Crew Guy
I Want My MTV-Jay
Specific Overtures
A Rat's Tale
It's Miller Time
McGovern: Unclothed
The Good Nephew
FYI of the Hurricane
Model Relationships
Make Room For Daddy
Retrospective (Part 1)
Retrospective (Part 2)
Season 8
Edit
Altered States
The Awful Truth
Fearless Frank
Murphy's Law
Sex or Death
Miller's Crossing
The Feminine Critique
Bad Company
Season 9
Edit
Executive Decision
Power Play
A Comedy of Eros
Son Dottle
Office Politics
Phil's Dead — Long Live Phil's
Season 10
Edit
Murphy Redux
A Butcher, A Faker a Bummed-Out Promo Maker
Ectomy, Schmectomy
Operation: Murphy Brown
Florence Night-en Corky
Waiting to Inhale
Petty Woman
From Here to Jerusalem
Tempus Fugit
I Hear a Symphony
From the Terrence
The Last Temptation of Murphy
Turpis Capillus Annus
Wee Small Hours
Than and Now
Season 11
Edit
Community content is available under
CC-BY-SA
unless otherwise noted.