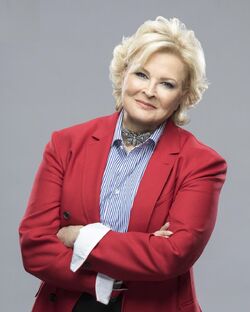 Murphy Brown was the star investigative reporter for FYI, highly successful weekly magazine series originating from Washington, DC. Though she may not have been the most lovable person in the world – she was opinionated, sarcastic, overbearing, and driven – her on-camera presence combined with uncompromising questioning, biting wit, and sense of ethics, turned her into a media icon. Following a brief retirement, Brown returns to the news business with a new morning news program, Murphy in the Morning.
About Murphy Brown
Edit
Born in , in 1948, America was first introduced to Murphy when she returned to FYI after a bout with alcoholism and rehab in the Betty Ford Clinic. She had, however, lost none of her "charm" and was soon causing waves and making life tough for the FYI's young and inexperienced executive producer, Miles Silverberg. She went through a string of secretaries, all of whom seemed unable to properly attend to her demand-driven lifestyle. Perhaps then it was with some irony that she proved herself similarly incompetent to the task when compelled to serve as the warden's secretary during a stint in prison for not revealing a source.
In her forties, Murphy divorced husband Jake and chanelled all of her energies into work. She was the quintessential driven career-woman and everything else took second place. Outside of work, you would most likely find her at Phil's, a nearby bar frequented by DC's political and media elite. Phil became something of a father figure to Murphy, equally dispensing gravely-voiced advice with soothing libations. Murphy's home was painted by a hugely imaginative artist, Eldin. Despite selling one of his original works for a huge sum, he had so many grand ideas that he continued to work on Murphy's house over the course of six years.
In the early 90's, Murphy discovered that she was pregnant after a fling with her ex-husband Jake. Although both Jake and Murphy's current boyfriend Jerry Gold offered themselves as father to the baby boy, Murphy – independent to the end – decided to raise the child alone, and named him Avery. The only other romantic episode that one might remember with Murphy, is a dinner date with co-worker Frank Fontana before the grand celebration of her 50th birthday. The two decided they knew too much about each other to be romantically involved.
Murphy's status as an icon in American culture became clear on two occasions. The first occured after her decision to stay a single-mother and raise Avery with the aid of a nanny. Then Vice President Dan Quayle, made a speech during dinner at the[1]Commonwealth Club in San Francisco, where he criticized Murphy for ignoring the importance of fathers and bearing a child alone. This proved to be an ill-judged criticism that drew sharp responses from a number of different camps – from Hollywood to the beltway.
Community content is available under
CC-BY-SA
unless otherwise noted.